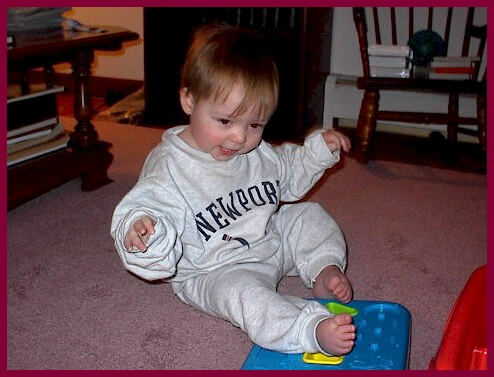 See Also "Family Update"
Jacob is a very loving and bright young little boy - the first child of Miqelle F. DeMeis & Robert G. Dullea. He was born (2/15/97) in Fort Collins which makes him a native Coloradoan - a trait considered a rarity by many in the state. In May of 1998 he was diagnosed with having a rare genetic disease known as Niemann-Pick Type C (a cholesterol metabolism disorder). At that time, Miqelle, who is originally from Pennsylvania (North Wales), was a social administrator at a foundation which supported young adults with special needs, while Robert, a Connecticut native (East Lyme), was completing his doctoral candidacy in the field of cancer research (radiation oncology) at Colorado State University. Jacob is also the first grandchild of Francene & Mike DeMeis (North Wales, PA) and Jeanne & Bob Dullea (Niantic, CT via Salem, MA).

Early in 1999 Jacob's dad received his Ph. D. degree and accepted a cancer research position at Pfizer Inc in Groton, Connecticut. The family now resides in the quaint little town of Pawcatuck which is a neighbor of the renown seaport village of Mystic, CT.

Jacob has adapted remarkably well to his change in environment...not surprisingly as he now gets a chance to spend a lot of time with many more family members (who reside primarily on the East Coast). Among his favorite interests are learning & playing with his many friends at the St. Mark's Play Group as well as swimming lessons (he really loves to splash! - Click Here for Photo) at the Toddlers Swim Class (both located in Mystic). Jacob is also a

VERY BIG FAN

of

Barney

& the

Teletubbies

. Although his affliction has significantly delayed the development of his motor & verbal skills, Jacob continues to show good progress as a result of his weekly physical & speech therapy lessons.
Jacob | Family Background | The Disease
Jacob's Album | Campaign Supporters | Jakey's Brothers
Ara Parseghian Medical Research Foundation | National Niemann-Pick Disease Foundation